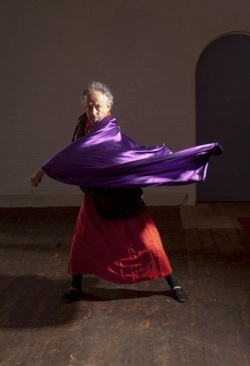 "A portrait of Richard III"
a movement & voice production
featuring Mark Neill (movement) & Reg Evans (voice)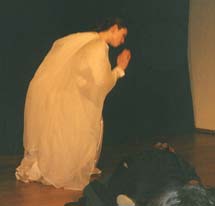 "KING LEAR, his daughters & the Fool"
a movement & voice production
featuring Mark Neill & Friederike Heinsdorff (movement) + Reg Evans (voice)
"I think I was most taken by the Eurythmy Lear - it fair blew me away. King Lear and his Daughters was electrifying."
Marie Ryan, Radio FM88.6
Death Scene from Hamlet - choreography by Mark Neill

Heaven make thee free of it.
I follow thee …
I am dead, Horatio. Wretched Queen, adieu!
You that look pale and tremble at this chance,
That are but mutes or audience to this act,
Had I but time – as this fell sergeant, Death,
Is strict in his arrest – O, I could tell.
But let it be. Horatio, I am dead,
Thou livest, report me and my cause aright
To the un satisfied.
O God, Horatio, what a wounded name,
Things standing thus unknown, shall live behind me!
If thou didst ever hold me in thy heart,
Absent thee from felicity awhile,
And in this harsh world draw thy breath in pain,
To tell my story…
What warlike noise is this?
O, I die, Horatio,
The potent poison quite o'ercrows my spirit.
I cannot live to hear the news from England;
But I do prophesy th'election lights
on Fortinbras, he has my dying voice.
So tell him, with th'occurrents, more and less,
Which have solicited……the rest is silence.